Che Guevara Effect, Gimp Tutorial
This effect is really easy to get, and the result is cool, high contrast and only one color.

Replicate the "Che Guevara" effect with Gimp is really easy, and could be a funny idea for a T-shirt, a joke or simply as a nice post production effect. If you change the red color with a different one, you will avoid any political repercussions.
You can consider to fill the face with a white color.
IMPORTANT: This guide has no political reference, the effect must be considered simply as an artistic effect.
Open with Gimp the image that you want to modify, to stay in theme I choosed a Che Guevara black and white portrait, you can even use a colorized photo with the same results.
Open the Threshold Tool in Colors - Threshold, and set the cursor as you like, you can see a preview of the threshold result directly in the original image. Remember that the mouth and the eyes should be clearly identifiable.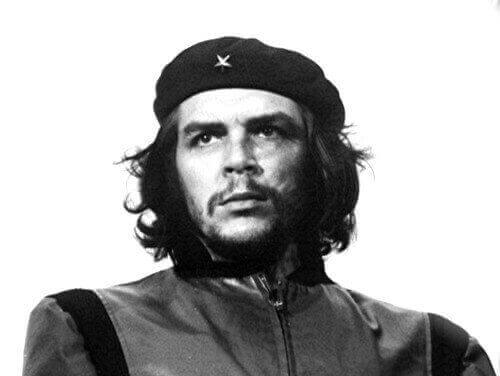 Create a new layer. In the Layers Window Click Right mouse button - New Layer, then press Ok.
(If you can't find the Layers Window try to press Ctrl+L)
Choose a red foreground color, then select Bucket Fill Tool in the toolbox of Gimp, and finally click anywhere in the image, the new layer should become completely red.
Choose Multilpy as Blend Mode, then Merge down the New layer (Right click - Merge Down).
There are two optional steps:
1) Paint in a white color the symbol in the hat.
2) Apply an Antialiasing effect, you can find it in Filter - Enhance - Antialias.