Rotate Colors, Gimp tutorial
Color Wheel is a Gimp tool that lets you to change a color into another.

The Gimp's color wheel is a tool that is used to change (rotate) a color into another, and can do wonders if you use the right image. The purpose of this tool is to transform a range of colors into another, by using a really simple tools that looks like a wheel. In fact is knowed also as Color Wheel.

At the rally in the Dolomites I photographed a pink Renault 5, this photo is perfect for this tutorial. The image you can see next has been modified only with rotate colors, no selections or other manipulations.
As first step of the tutorial, open your image, then click Colors - Map - Rotate colors.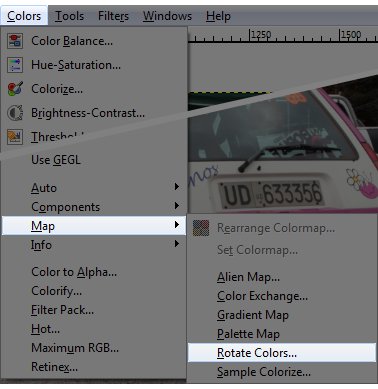 I suggest you to open Gimp before proceed, this will let you make the appropriate test with color wheel, meanwhile you read the tutorial. Select a picture with large difference between colors, like a red flower on green background.
Remember that not all images are appropriate for this tutorial, change the color of the hairs to a blonde girl in a yellow background will be impossible, unless you carefully select the hairs.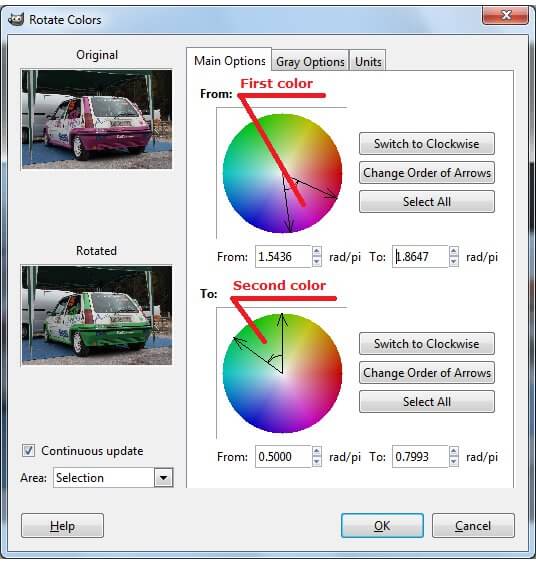 The first color is the color to be changed. In my case I selected all the shades of purple, but i leave out the red (Rear lights are red, and must be preserved). Imagine the cursors as the hour-hands of a clock. To move them just click, hold and move. Obviously, the blue was not incorporated for preserve the color of the carpet. The second color is the one that will take the place of the starting color. In the example I have selected a green, you can choose what you want.
Only one advice: For get a realistic effect, first and second color should have a similar aperture, so if you select a range from 1.5436 to 1.8674 (difference of 0,3211) in the top wheel, you should select a range with a difference of more or less 0.3 on the bottom.
Color wheel affects any similar color in the scene, so you can use it for change the whole color of the background image as the example below, or can also be used to remove the red cast in night photography.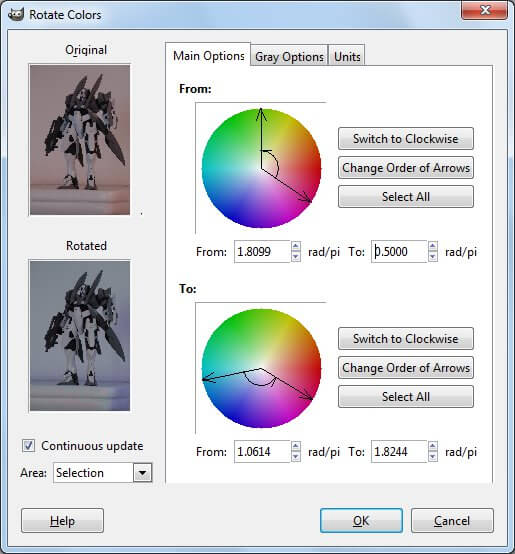 Below you can see a couple of examples to clarify. For the picture of the sidecar with the fireman, I used a mask to preserve the color of the dog's hairs, very similar to those of the body of the bike.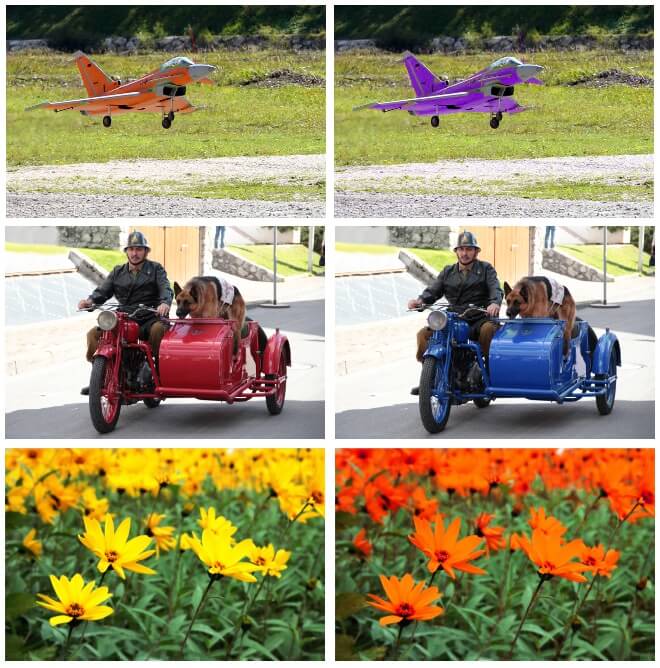 As I said in the beginning: Gimp's color wheel is a tool that can do wonders if you use the right image.