Lomo Effect with Gimp
how to simulate lomography in few steps with Gimp.

Gimp allows you to fake a Lomo picture easily, with few steps. Let's see what is a Lomo and how to proceed: The lomography is a school of thought as well as a photographic technique. There are ten "Golden Rules" (can be found at the end of the tutorial), but the credo is only one: "Don't think! Just Shoot".
There is only one thing that i don't like in lomography: the use of film (really anachronistic), so I decided to write this Lomo tutorial, in order to let you simulate Lomography with your digital camera. Is really hard to write a good Lomography tutorial for Gimp, in fact there are many different ways to get a perfect Lomo picture, I suggest you to read this tutorial only as an inspiration.
For better results I suggest you to shoot with unusual settings: You can overexpose, change color balance to the extreme, use fisheye lenses, add noise, exaggerate the contrast... anything you want.
There are a couple of thing that you should consider before continue:
1) Can be a good idea to enhance the main color of the scene, in this tutorial I increased the red, but if your photo is mainly green (for example a meadow), you can enhance the green tones, you can also do the opposite.
2) The only obligatory step is the addition of vignetting. The lens of a Lomo camera is very bright and wide (32mm f/2.8) and the vignetting is always present.
3) Use only wide lenses, don't use zoom. Use the smaller Aperture (f/value) that you can.
4) Don't think too much when you shoot, the best results are with crooked/unusual photos.
Open the picture that you want to transform in a Lomo photography, than go to Colors - Curves and set the curves as you like (remember that a good idea can be to increase the main color of the photo, this settings are for increase the red channel, if you need to increase other colors, use different parameters). If you are not comfortable with Curves you can also use Color Balance (Colors - Color Balance) to get a similar result in an easier way.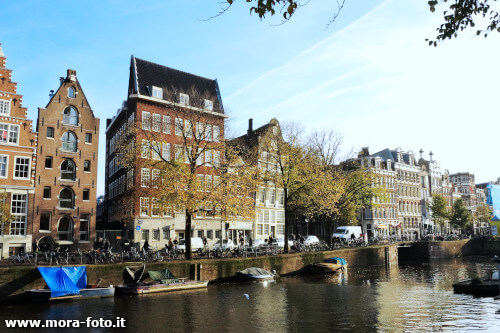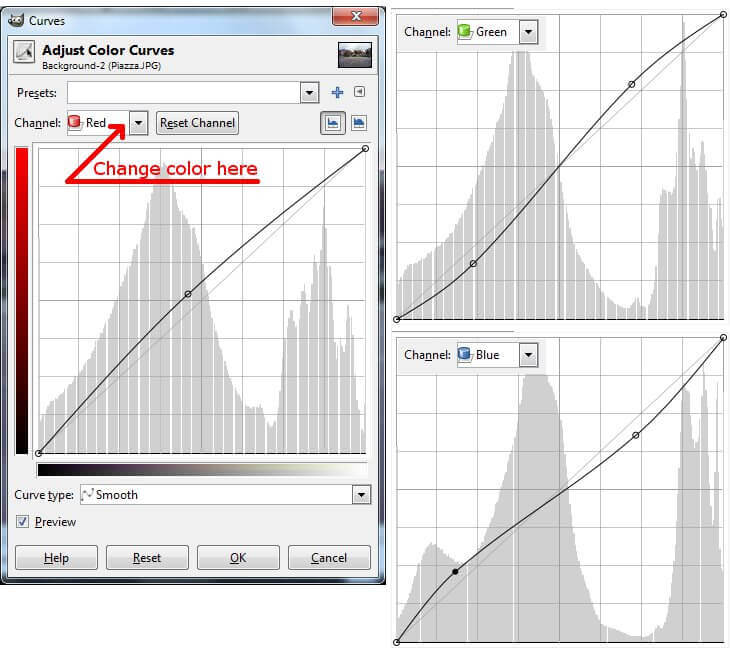 Now Open Filters - Enhance - Unsharp mask and set the parameters as you like, I used the default values.
Open Colors - Brightness-Contrast and set the Contrast to +20 or more, don't worry if you will get clipped lights and shadows, the result will be more realistic.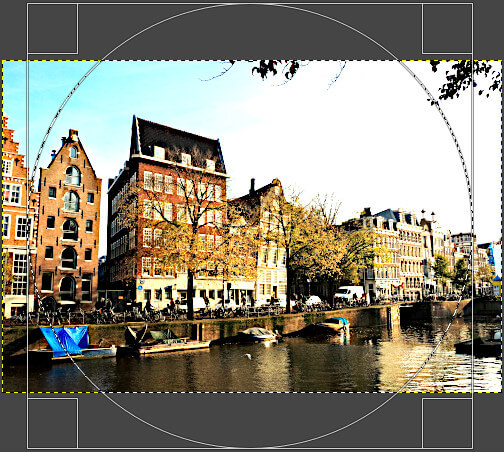 Now the photo is quite similar to a Lomo, but we need to add the vignetting to get a perfect Lomography.
Use the Ellipse Select Tool to draw a circle selection like the following one:
Read the selections tutorial if you don't know what is a Ellipse selection.
Feather the selection (Select - Feather) with a large value (about 100 pixels each 1000 pixels of width) and invert the selection (Selection - Invert). The result should be similar to the next:
Open Colors - Brightness-Contrast and set -100 for Brightness and +20 for contrast, you can redo this step for harder effect.
This was the last step of my Lomo photography tutorial for Gimp, next you can see the photo before and after the lomo effect, followed by a collage of real Lomo photos as inspiration.
If you liked Lomo Effect, you can also be interested in the Cross Processing tutorial for Gimp.
Next you can read the 10 golden rules of a Lomographer:

1) Take your camera everywhere you go.
2) Use it any time - day and night.
3) Lomography is not an interference in your life, but part of it.
4) Try the shot from the hip
5) Approach the objects of your Lomographic desire as close as possible.
6) Don't think! Just Shoot (also the credo of Lomography).
7) Be fast
8) You don't have to know beforehand what you captured on film.
9) Afterwards either.
10) Don't worry about any rules.
I hope you liked my work, don't forget to read all the other tutorials for Gimp.